Spunky redheads wanted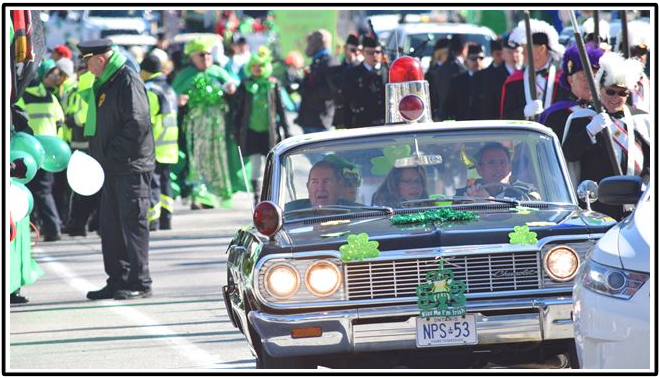 Get your party on
St. Patrick's Parade will take place on March 11.
Ottawa East News
By Michelle Nash Baker
Calling all redheads.
The Irish Society of the National Capital Region is looking for individuals with the rarest hair colour out there — red — to participate in this year's annual St. Patrick's Parade on March 11.
Involvement is up to the ginger-haired participant — volunteer, watch from the route, or take part in the parade.
The parade begins at city hall and follows a route along Bank Street to Aberdeen Pavilion, at Lansdowne Park.
Currently, the society is looking for more parade marshals to help out.
According to organizer Lauren Strevens O'Neil, marshals are needed all along the route.
"We do also have a need for some banner-carriers," Strevens O'Neil. "Some energetic folks who are willing and able to walk the parade route carrying our sponsors' banners."
Aside from banner-carriers, the parade also collects food and money donations for the Ottawa Food Bank.
All volunteers must be 16 years or older — students can earn up to six hours of volunteer hours.
Volunteers can register at city hall at 8 a.m. on March 11. Interested individuals can contact volunteersisncr@gmail.com.
The annual parade celebrates Irish culture and heritage every year during the Ottawa Irish Festival, which ends at the Grand Irish Party.
Beau's All Natural Brewing has partnered with the society to create the second annual Beau's St. Patrick's Party.
The Irish Society, along with other Irish organizations in Ottawa, host a variety of events across the city embracing Irish culture during the Ottawa Irish Festival.
The festival begins with a proclamation at by Mayor Jim Watson on March 9 at city hall. Refreshments and live entertainment will be available between 4:30 p.m. to 6:30 p.m.
Over events include:
• The Rose of Tralee Ottawa Centre holds its selection on March 12.
• On March 14, see musicians Matt Cranitch and Jackie Daly in the pub at St Brigid's Centre for the Arts
For full event details and more information about the festival, visit irishsocietyncr.com.
http://www.ottawacommunitynews.com/news-story/7168512-spunky-redheads-wanted/
---